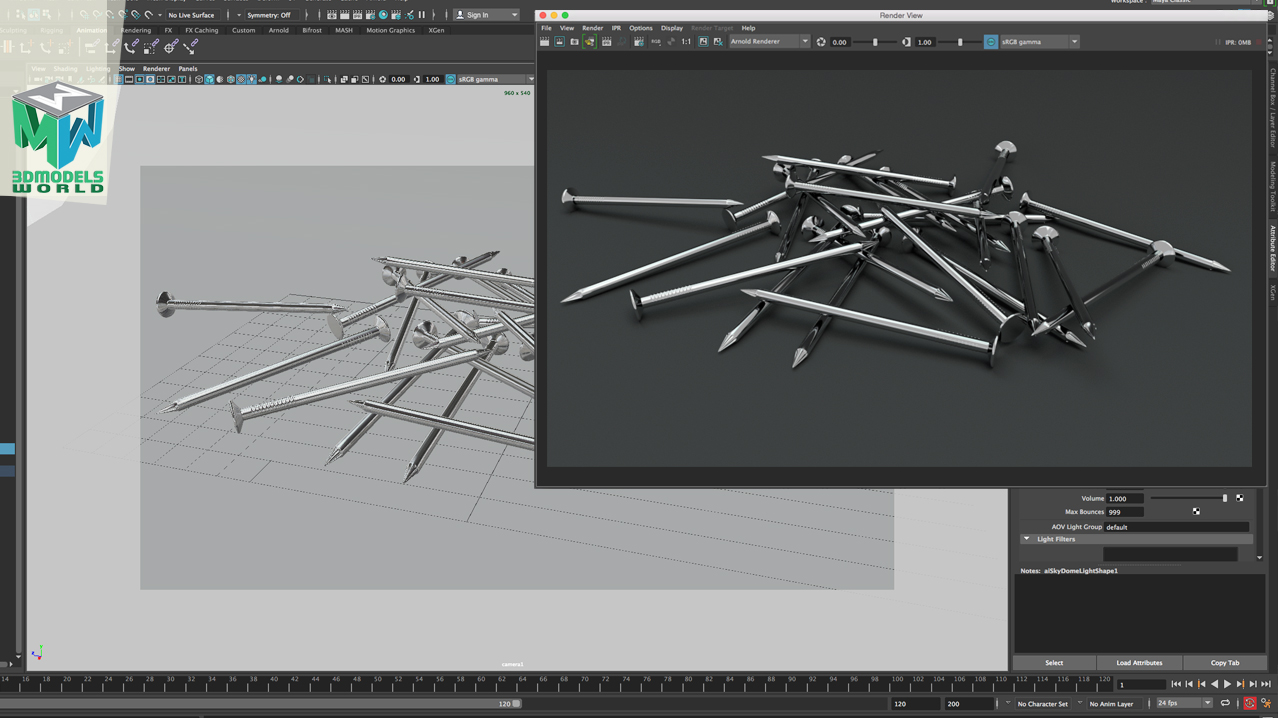 In this Maya tutorial we will create a realistic metal – silver shader using Arnold in maya 2018 the shader creation will be pretty straight forward process, but to achieve a realistic look we will spend some time on creating the correct lighting settings and setup using HDRI lighting in Arnold.
We will also create a reflection cards / sphere like in studio lighting setup to achieve more realistic reflections on the nails and the 3d objects in the scene. the approach in this tutorial will work for creating silver, chrome, gold and other metal shaders.
We hope that you will benefit from this tutorial, if you have any questions please feel free to ask us in the comments below and we will be happy to answer them.
This tutorial will mainly help beginners to start creating metal shaders using Arnold in Maya 2018, the topics covered in this tutorial include the following:
1- Creating Metal – Silver shader using Arnold AiStandard shader.
2- Creating HDRI lighting using Arnold sky dome light.
3- Creating reflection cards/sphere to simulate studio lighting setup.
4- Tips and tricks for removing noise from HDRI type renders for cleaner image.
5- We also discuss in this tutorial the best practices and the proper approach to creating metals in Arnold and Maya, the approach/ ideas discussed in this tutorial will work for other 3d softwares and rendering engines as well, so if you are using other than Maya feel free to check this tutorial as well, it could provide you with some tips that might help you in your own metal shader creation process.
Click on the link to get more details about the iron nails used in this tutorial: Iron Nails 3D Model
Links for the reference images used in the tutorial:
1- Links for the HDRI library used in this tutorial: http://www.hdrlabs.com/sibl/archive.html