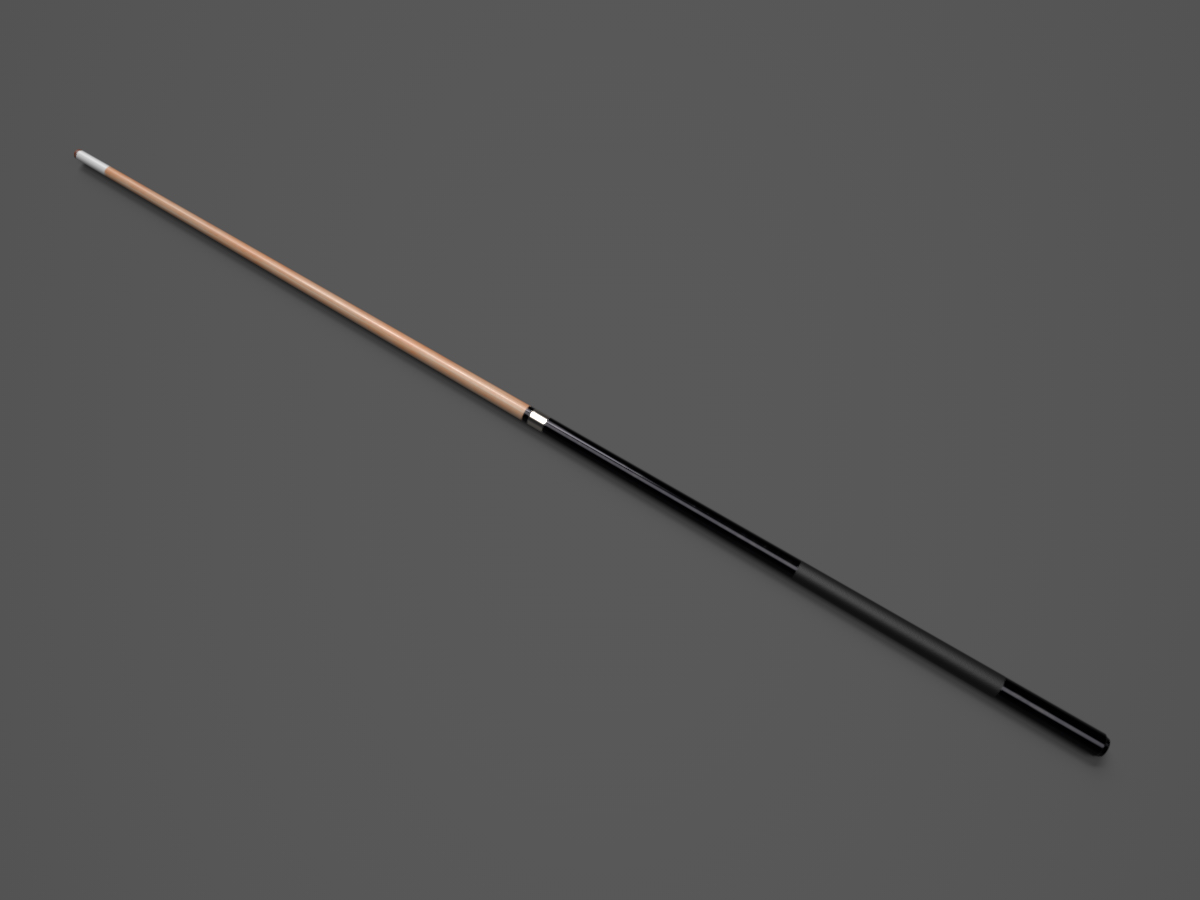 Pool Stick PBR 3d model, detailed "MA" "MAX" "BLEND" "FBX" "OBJ" "3DS" files, for games, architectural renderings and animations very detailed PBR 3d model matching the real world professional Pool Stick, the zip file includes all the 3d files and six PBR 5120 x 5120 pixel texture maps. the 3d model works very well for closeup still renders and animations, also you can use it for simulations and cinematic animations as well.
Works with:
1. Maya
2. 3ds Max
3. C4D
4. Unreal Engine
5. Unity
6. Blender
And any other software that can import ".MA" ".MAX" ".BLEND" .FBX" ".OBJ" ".3DS"  files.
Polycount:
Faces: 740
Tris: 1,480
Verts: 782
PBR Textures: Yes
UV: Yes
Texture Maps: Yes
Materials: Yes
The Pool Stick PBR 3D Model created with great attention to details and realism from every angle, the 3d model contains high resolution six – 5K texture maps that will work very well for close up renders and long shots, the model is well optimized for PBR (Physically Based Rendering) rendering and animation.
Detailed Information for the Pool Stick PBR 3D Model:
PBR textured 3d model (Physically Based Rendering).
High quality mid poly 3d model correctly matching the real world professional classic pool stick.
The 3d model is optimized and modelled with great attention to edge flow for best rendering results.
The ZIP file includes all the six PBR texture maps.
The UV's layout are done correctly for no stretching and artifacts.
5K six (PBR) texture maps, 5K albedo / base color map, 5K ambient occlusion map, 5K normal map, 5K height map,  5K metallic map and 5K roughness map.
The geometry and materials are grouped and named correctly for no confusion.
Everything is well organized for easy access.
The 3d model is ready to render immediately, no extra steps is necessary just import the scene, connect the textures and start rendering.
No extra plugins needed to render or import the 3d model.
List of related 3d models:
Pool Balls and Rack PBR 3D Model
N95 Respirator Face Mask PBR 3D Model
Golf Ball PBR 3D Model
Golf Putter PBR 3D Model
Golf Club PBR 3D Model
Bowling Pin PBR 3D Model
Bowling Ball PBR 3D Model
Baseball Bat PBR 3D Model
Boxing Glove PBR 3D Model
Basket Ball PBR 3D Model
Soccer Ball PBR 3D Model
Stadium Lights PBR 3D Model
Basketball Hoop PBR 3D Model
Boxing Ring PBR 3D Model
Pool Table PBR 3D Model
Here is a list of football stadiums 3d models:
Ralph Wilson Stadium 3D Model
Here is a list of all the football helmets 3d models:
Football Helmet 3D Model with custom logo
Football Helmet 3D Model Denver Broncos
Football Helmet 3D Model Cardinals
Football Helmet 3D Model Chiefs
Football Helmet 3D Model Panthers
Football Helmet 3D Model Patriots
Football Helmet 3D Model Redskins
Football Helmet 3D Model Texans
Football Helmet 3D Model Steelers
Football Helmet 3D Model Saints
American Football Ball 3D Models:
Click here for American Football ball 3d model with stripes
Click here for American Football ball 3d model without any stripes
Low Poly Versions:
American Football Ball Low Poly 3D Model