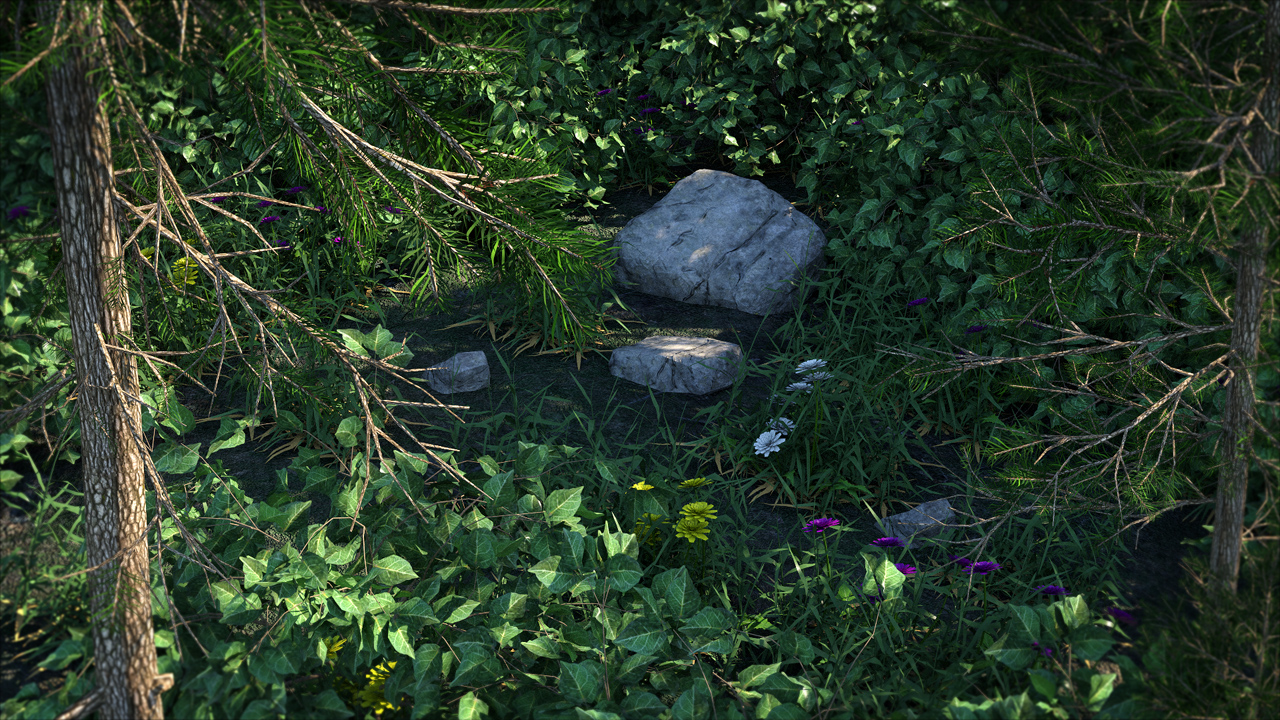 Access Course here: https://3dmodelsworld.com/downloads/cinematic-forest-environments-in-maya-and-arnold-course/
You will be able to create stunning natural forest environments in Maya and Arnold without relying on any 3rd party plugins
You will be able to scatter thousands of objects inside Maya effectively
You will be able to create advanced shading network to achieve natural looking materials and shaders
You will be able to create realistic terrains without relying on traditional modeling methods
You will be able to create advanced render passes or AOVs inside Arnold and export them correctly for compositing
You will be able to create effective/ useful particle simulations using Maya without relying on any 3rd party plugins
You will be able to create shrubs plant and flowers from scratch inside Maya
You will be able to create advanced compositing in After Effects and create cinematic look easily
* By watching and following this course you will be able to duplicate the results in the trailer and you will be able to understand the process well, so you can create your own unique environments in Maya and Arnold! (this course is complete In-depth Step By Step. Recorded and narrated in realtime from start to finish! )
Course Overview
In this course, we will go through the whole process from start to finish and create a beautiful cinematic forest environments using Autodesk Maya, Photoshop and After Effects. we will start with the essential techniques for 3D environments creation, we will study reference and then move into terrain creation and texturing, scattering thousands of objects and how to make the environment look natural and cinematic, camera animation, realistic lighting and rendering in Maya and Arnold, effects simulation in Maya using n-particles, then finally we will do multipass compositing in After Effects. Also you will have access to the course discussion forum so you can get instant feedback on your work from us and your classmates! 
20+ Lectures With Over 6 Hours Of Detailed Step By Step 
HD 
Videos – Regular Bonus Videos Updates – Full Lifetime Access

Topics Covered In This Course
Creating shrubs and flowers from scratch in Maya using procedural methods for maximum flexibility. (no 3rd party plugins).

How to add sharpness and details to your renders/ fix blurry renders easily.

Realistic outdoor lighting using Arnold in Maya. 

Create cinematic shot layout.

Cinematic camera setup and animation in Maya.

Create realistic terrains quickly by utilizing the power of Google Earth and Sketchup.

Particle simulations for atmospheric effects in Maya (no 3rd part softwares).

Advanced shader creation in Maya and Arnold.

Scattering thousands of objects in Maya without taxing the computer cpu and ram.

Learn how to use MASH to speed up your environments creation in Maya 2018.

Multipass compositing In After Effects (Cinematic Style).

Creating lens flare and motion blur In After Effects (no 3rd party plugins).

Learn how to create complex natural environments in Maya.

Set dressing in Maya and Arnold.

Access to the course community where you can get feedback and improve your skills.

And much much more…
Who Is This Course For?
Anyone who is interested in creating stunning 3d cinematic environments in Maya and Arnold using the latest industry methods.

If you are looking for (complete) practical step by step course that will get you results quickly in the most efficient way then this course is perfect for you.

If you are tired of the complexity of Maya and looking to save months or years of trial and error and want to learn properly how to achieve very cool cinematic environments in Maya and Arnold then this course is perfect for you!.

If you are looking for a course that is direct to the point and will get your skills to the next level effectively then this course is perfect for you!. (this course is not repetitive and filled with unnecessary content, it contains just exactly what you need to succeed by taking it )

Do not take this course if you have no idea how to use Maya, Photoshop or After Effects.

If you have basic skills in Maya and know how to use it along with Photoshop and After Effects then you will follow along easily.

This course will be updated regularly to cover the latest methods, also we will be adding bonus videos to cover tips and tricks to enhance your skills even more. (we will never leave this course to be outdated. it will constantly keep growing and improving)
Access Course here: https://3dmodelsworld.com/downloads/cinematic-forest-environments-in-maya-and-arnold-course/